By DC Music Editor Benjamin New

One of the Goals of Considerable sounds is to illuminate music that our readers may not have heard before that we believe is worthy of your attention. Many of these artist's are independent. (Not affiliated with major music labels). A great wealth of talent lays in waiting.

May I introduce you to Sue G. Wilkinson (If you are not already a fan). I only recently became acquainted with her music and regret not previously having this entire CD in my MP3 player's "favorites" list.


A song I feel is a real treat for the ears is "Sympatico" a lush somewhat ambient piece that showcases Sue's voice in modes well outside the blues scales where she is obviously quite comfortable. Her piano chops alone are reason enough to investigate this remarkable record. But you also get a unique sensibility of solid songcraft and one of the most legitimate female blues voices in the history of the genre!

But to classify this work as R&B is simply too limiting, I detect bit of Professor Longhair, Fats Waller, Wendy Rene, Judy Clay, and Ann Rabson. But there seems to be equal amounts of Kate Bush, Annie Lennox, and Dolores O'Riordan, (I know these references to other artists are never really fair but you have to know where you came from to grasp where your going, right?)

An interesting note about Sue; her first demo tape was co-produced and promoted by DC Editor Bryan E. Hall and the band Kansas' Phil Ehart. According to Hall, the most most common response from record labels was that "no one would ever buy another album if we produced her."

Sue has opened for many big-time acts such as Kansas and Art Garfunkel, and she has toured extensively in Japan and England where they love her!

Ambient Songs

Check out Sue's collaborations with Patrick O'Hearn (former bassist Frank Zappa, Missing Persons)! As always, keep searching for the art that you luv and the art that luvs you!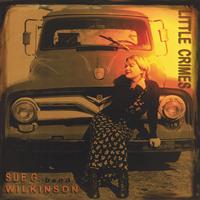 Sue G. Wilkinson
Little Crimes

This CD has a 30% discount if you buy more than one copy of it today!

© 2001 Sue G. Wilkinson (803763022827)
CD Baby Price:
$12.00
An eclectic mix of Americana roots-rock and Ambient Pop music make up this CD of pulsating piano, keyboards and stunning vocals.
TRACKS

lo-fi: dial-up

hi-fi: broadband






NOTES
This independent release "Little Crimes" represents not one, but two projects by Sue G. Wilkinson. Inside you will find ambient pop selections are well as piano based rockin' R&B. Get ready for some music that you won't be able to leave alone folks! Read on for more details:


The unforgettable ambient sounds of SUE WILKINSON are trance-like and highly melodic, powered by breathtaking vocals that can only be categorized as one of a kind. "Blessed with an amazing vocal range, she has not only the power to blow down a brick house, but an astounding sense of versatility with the emotional capacity of PATTI GRIFFIN, FIONA APPLE and TORI AMOS combined." Her new title track "Sympatico", is at once piercing yet mellow, languid yet pulse pounding, and undoubtedly one of the most gorgeous cerebral pieces I've ever heard." says ezine MuzikMan.

Sue is the voice and co-composer behind a musical collaboration with film scorer, bassist, and recording artist, PATRICK O'HEARN. A Grammy award winner, his electronic-based instrumental music is considered to be the foundation behind the ambient musical movement, not to mention the modern synthesized orchestral sound heard in today's film scores.

Here's what the critics have to say about her Rockin' R$B stuff:

GO GIRLS MUSIC REVIEW describes Sue's piano based music: " She hits rapid-fire intros, takes improvised solos, plays like mad, and it's a pleasure, an inspiration, and a "how does she do that?" to listen to.

Sue's adventurous spirit blended with a diverse, eclectic musical background has also given birth to a Rhythm and Blue's band that has toured extensively. Well known in the UK, Davy MacFarlance writer for BLUES MATERS, INTERNATIONAL BLUES, AND REAL RNB, the UK's most read blues magazine, says Ana Popovic "could be fighting for space in a crowded field given the amount of blues women around: Bonnie Raitt, Susan Tedesch and the most EXCELLENT SUE G. WILKINSON."

No reason to wonder why Miss Wilkinson has opened up for bands like PEARL JAM, RED HOT CHILI PEPPERS, Ministry, Lush, THE INDIGO GIRLS, COLONEL BRUCE HAMPTON and the Aquarium Rescue Unit, GRATEFUL DEAD'S Bob Weir, Michelle Shock, KANSAS and many others.

Probably her favorite gigs were in JAPAN. Twice, through two different Cherry Blossoms Festivals, she got down with the Japanese. Spending time in the UK touring includes gigs at BURNLEY INTERNATIONAL BLUES FESTIVAL, LEMON TREE IN ABERDEEN SCOTLAND, 12 BAR CLUB IN LONDON, MUSICIAN IN LEICESTER, ENGLAND, and STUDIO IN HARTLEPOOL, just to name a few.

Some of Sue's accomplishments include a nomination by THE COCA COLA MUSIC AWARDS for BEST NEW ROCK BAND in Georgia. That same year the INDIGO GIRLS won Best Acoustic Act and Trisha Yearwood won Best New Country Act. Her voice can be heard on many commercials, including WAFFLE HOUSE, THE NATIONAL MILK ASSOCIATION, & SIX FLAGS OVER GEORGIA.

Described as a SIREN WITH A SOULFUL SOUND, she has also been featured on WOMEN OF MP3.COM - with three of her songs holding the #1, #2, and #3 in the Georgia AAA/Alternative category for close to a year. "Sympatico", her collaboration with Patrick O'Hearn, was downloaded over 30,000 times on MP3.COM.

Sue's ORCHESTRAL COMPOSITIONS won an INTERNATIONAL TELLY AWARD for an original instrumental score Sue co-composed with former STEVE MORRIS bassist JERRY PEEK.

SUE G. WILKINSON? performer extraordinaire - once you hear her, you'll remember this sound, this voice, this style of music.

REVIEWS:

London's

Time Out

:
"Hugely enjoyable pounding, stomping, riffing, rough-hewn, piano-driven R&B from the soulful Wilkinson, ripping it up all the way from Atlanta, Georgia."


Davy MacFarlane UK's

Blues Matters

:
"Ana Popovic... could be fighting for space in a crowded field, given the amount of blues women around: Bonnie Raitt, Susan Tedeschi, and the excellent Sue G. Wilkinson."


Atlanta's

Creative Loafing

:
"Sue Wilkinson has a gorgeous voice, no doubt, like some shimmering symphony of nature."


Muzikman's

Sound Script

:
"Wilkinson still reigns queen on this brilliant project... she adapts the lush linger of Tori Amos and Kate Bush, only to rise to a level above these youngsters. The title track [Sympatico] is at once piercing yet mellow, languid yet pulse pounding, and undoubtedly one of the most gorgeous cerebral pieces I've ever heard."


99X Sound Menu-

Creative Loafing

:
"...Wilkinson pounds the piano like Professor Longhair, sounds like a less frantic Janis Joplin and clearly has an affinity for classic, hard-edged R&B [more Stax/Volt than Motown]." -Justin Robertson, 6/19/00.


Ginger Massey,

CitySearch.com

:
"Through bursts of "rockin' R&B" from her acoustic piano and soul-stimulating vocals, Wilkinson not only dissects every dirty emotion, but she wallows around in them until the fear of that emotion is erased. Of course, just when tears begin to well up in the corners of your eyes, Wilkinson throws out a song so fun and playful that you're compelled to leave the seat and groove to the beat."


Gregory Nicoll,

Southeastern Performer

:
"... a breathtaking synth track where Sue Wilkinson's fine voice keeps sounding like it's gonna burst into the title theme from some '60's James Bond movie. [describing Sympatico]"


99X Sound Menu-

Creative Loafing

:
"Filled with an abundance of soul, local band leader Sue Wilkinson can get you stomping your feet while you wallow in self-pity. The title track to her album 'See About Me' captures Wilkinson in her element; evoking Janis Joplin, creating her rare multi-cultural, cross-generational stew." -Mossman, 8/8/01.

Click here to write a review about this CD!



OUR Greatest Living Female Blues Singer

Reviewer: Mark White

Awesome. The first scale on See About Me sends shivers down your spine, and the lyrics (I've got the full moon, empty arms, guess you're immune to my many charms..) are amazing. She sounds like Janis Joplin with a better range and a great sense of humor and irony ('when your soul is in traction, baby, see about me'). The music is sophisticated and pleasing, which great guitar riffs, chords, and satisfying endings. Lack of Trying is another great song; the intro of church chords leads into fulsome blues hyperbole: 'I could find you in a field that was thick with sugar cane; I could find you in a church with one thousand widow panes. Why can't I get next to you? Well it's not for lack of tryin'.' Stop what you are doing and buy this CD immediately! This music may not complete your life, but it will make it much fuller.




Littles Crimes delivers incredible vocals and songs unique unto themselves.

Reviewer: Debbie Boon

Although comparisons have been made to other artists, Sue Wilkinson's voice and music are unique to her. Little Crimes is a CD that offers its listener driving beats, subtle vocal nuances, driving vocals, subtle musical nuances, powerful melodies, powerful vocals, and single notes that are so rich in texture you feel they are resonating from an entire symphony. Little Crimes is a great CD that offers something intriguing for all musical tastes.




It's a must hear CD!Reviewer:

www.audio-style.com

online audio music magazine.

Don't waist your time reading this review, just buy the CD! If you are still reading, here's what you will get when you buy the CD:

well crafted songs in an era when most of the music is cookie cutter at best!
soulful vocals that reach out of the recording and strait in to your heart!
some of GA's best musicians backing Sue up!
Great lyrics!!!
something that is important to me, a great recording!

Don't miss this rare opportunity to buy a CD that will stay one of your favorites, I promise, you won't sell it on eBay next year!




Annie Lennox, Kate Bush, Alison Moyer, Crall, and Joplin all in one!Reviewer: Bryan E. Hall,

Footnotes Music & Entertainment /

DULY CONSIDER-

Sue Wilkinson in this album brings together her training and natural talent with that which is clearly influenced by Annie Lennox and Kate Bush. In this CD, she demonstrates the soulful depth of Alison Moyer, the coolness of Diana Krall, and the balls of Janis Joplin! Record execs in Hollywood have said one thing consistently, if they distributed her, no one would buy a garage band because they would listen to her CD over and over again. When the worst thing someone can say about this CD is it has 'too much shelf life', that is one essential to any music collection. Simpatico, Stronger Heart and Lack of Trying are deserving of James Bond movie themes!!!
Duly Consider and Considerable Sounds are TM of this publication and are subject to liabilities thereof