Scooter's directive from whom?



Without the testimony we certainly have a sense of who was in charge when the decisions were made to intentionally out a CIA Agent, a felony, treason, a high crime; therefore an impeachable activity if aided, abetted or ordered by those in line for the Presidency of the US. The questions are:

1) Was it ordered? or Was it just an incredible breach of security as a result of arrogance of those lower down the food chain of the Bush/Cheney or Cheney/Bush regime? If the acts were independent, who made them think such acts would be tolerated by the administration or the US people?

2) If it was ordered, who ordered it? Rove, Cheney, Bush by proxy?

3) Regarding intent, is it even conceivable that government officials, during a time of war, thought this was okay? or Were they clearly attempting to destroy the career thus the ability of someone who they perceived to be outside of their political circle?

4) If Cheney knew, is it possible the man he so closely works with, Bush, didn't know? of Was it Bush didn't want to know so he could claim plausible deniability later?

5) And considering their excuse is, "Everybody already knew...", is that an excuse for furthering the gossip?

Do "Loose lips sink ships?" Yes, they do. Who knows whether or not, and if so, how many agents were killed in the Mideast as a result of their known connection to Valerie Plame? Are we just playing the "Plame game"? It appears as if someone will be blaming someone and the question remaining will be, "Who's going down?" Is someone going to take a bullet, become the scapegoat for an administration they know is dishonorable?

From the Los Angeles Times, A timeline that may prove useful to some, interesting to others, and annoying to the administration:


Leak case timeline

I. Lewis "Scooter" Libby, former chief of staff to Vice President Dick Cheney, is being tried on five counts related to the leak of CIA operative Valerie Plame's name in 2003. Some important events in the case:

2003:

• Jan. 28: President Bush says in his State of the Union address: "The British government has learned that Saddam Hussein recently sought significant quantities of uranium from Africa."

Who is behind this?
The man behind the president?



• May 6: New York Times columnist Nicholas D. Kristof reports that a former ambassador, whom he does not name, had been sent to Niger in 2002 to investigate the uranium report. The column says the former envoy reported to the CIA and State Department well before Bush's speech that the uranium story was unequivocally wrong and was based on forged documents.

• May 29: Libby asks Marc Grossman, an undersecretary of State, for information about the ambassador's travel to Niger. Grossman later tells Libby that Joseph C. Wilson IV is the former ambassador.

Valerie Plame--retired at a ripe old age?



• June 11 or 12: Grossman tells Libby that Wilson's wife works at the CIA and that State Department personnel are saying Wilson's wife was involved in planning the trip. A senior CIA officer gives him similar information.

• June 12: Cheney advises Libby that Wilson's wife works at the CIA.

• June 14: Libby meets with a CIA briefer and discusses "Joe Wilson" and his wife, "Valerie Wilson."

• June 23: Libby meets with New York Times reporter Judith Miller. He tells Miller that Wilson's wife might work at a bureau of the CIA.

• July 6: The New York Times publishes an opinion piece by Wilson titled "What I Didn't Find in Africa," and he appears on NBC's "Meet the Press." Wilson said he doubted Iraq had obtained uranium from Niger recently and thought Cheney's office was told of the results of his trip.

• July 7: Libby meets with then-White House Press Secretary Ari Fleischer. Libby notes that Wilson's wife works at the CIA and that the information is not widely known.

• July 8: Libby meets with Miller again and tells her that he believes Wilson's wife works for the CIA.

• July 12: Libby speaks to Time magazine's Matthew Cooper and confirms to him that he has heard that Wilson's wife was involved in sending Wilson on the trip. Libby also speaks to Miller and discusses Wilson's wife and says that she works at the CIA.

• July 14: Syndicated columnist Robert Novak reports that Wilson's wife is a CIA operative on weapons of mass destruction and that two senior administration officials, whom Novak does not name, said she suggested sending her husband to Niger to investigate the uranium story.

• Sept. 26: A criminal investigation is authorized to determine who leaked Plame's identity to reporters. Disclosing the identity of CIA operatives is illegal.

• Oct. 14 and Nov. 26: Libby is interviewed by FBI agents.


Should Fitzgerald be afraid of telling us the king has no clothes?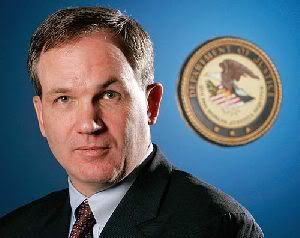 • Dec. 30: U.S. Atty. Patrick J. Fitzgerald in Chicago is named to head the leak investigation.

2004:

• January: A grand jury begins investigating possible violations of federal criminal laws.

• March 5 and March 24: Libby testifies before the grand jury.

2005:

• Oct. 28: Libby is indicted on five counts: obstruction of justice and two counts each of false statement and perjury.

2006:

• Sept. 7: Former Deputy Secretary of State Richard L. Armitage admits he leaked Plame's identity to Novak and to Bob Woodward of the Washington Post. Armitage says he did not realize Plame's job was covert. Woodward taped his June 13, 2003, interview with Armitage.

January 26, 2007--Cheney's key role in leak case detailed
A former aide testifies in Libby's trial that the vice president directed the effort to discredit a CIA agent's husband.
By Richard B. Schmitt, LA Times Staff Writer

WASHINGTON — In the first such account from Vice President Dick Cheney's inner circle, a former aide testified Thursday that Cheney personally directed the effort to discredit an administration critic by having calls made to reporters in 2003...

Complete Article

Let's keep watching! Don't ignore this or assume it's okay because, "anything a President does is okay---Executive privilege---The President is above the law." If he is, are you proud to be an American knowing America tolerates this? Where is our "moral high-ground"? Answer these questions and let me know. Let all of us know, as we need to know who has lost the very things upon which the honor and reputation of America was built.